Bidadari Park, new 10 hectare park to be completed in 2022
Bidadari Park, a new park, will be ready in 2022. It has approximately 10 hectare plot of land, twice the size of Toa Payoh Town Park. Beside full featured park, Bidadari Park also function as water reservoir with Alkaff Lake and underground service reservoir.
Size of Bidadari Park V.s. Total land size
New park will include natural park & greenery, open lawn, feature lake, 700 m. heritage walk, 6 kilometres of wood trial. Housing and Development Board (HDB) who in-charge of development highlight to news reporter that park will be ready in 2022. HDB designed this park for nature lovers to enjoy the scenery, flora & fauna. It is a multi-agency collaboration between HDB, national water agency PUB and the National Heritage Board (NHB). Park will have approximately twice the size of Toa Pa Yih Town Park. It will occupies more than 10% from total 93 ha Bidadari land size.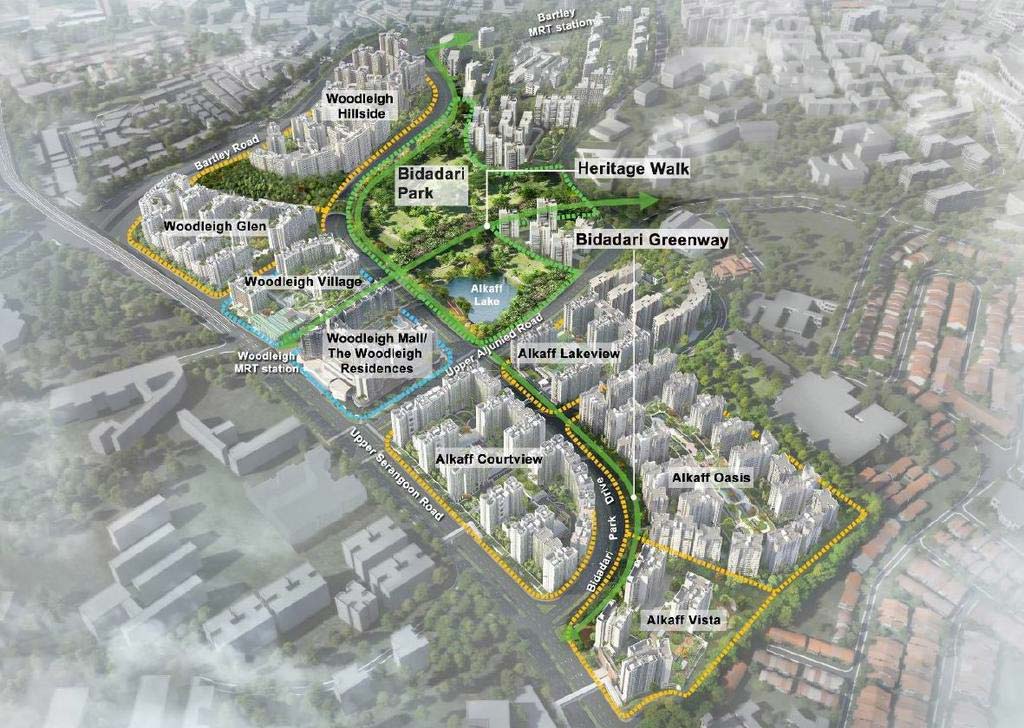 Unique Design & Designated Functions
This park is part of the Government development near Woodleigh MRT Station. The main components are Park, HDB Estates, private residential estate, public spaces & shopping mall. It featured Singapore's first underground service reservoir, which will store & supply drinking to town during high demand. The mentioned underground reservoir tank located under community lawn. It has 2 community lawns of total 5000 sq m combined size, where residents can enjoy Taiji and picnics.
HDB will construct link from new Bidadari Park to other Parks through Park Connectors Network. It will create various components activities such as running, walking & cycling for from Woodleigh MRT and neighbouring housing developments. It will incorporate with gentle slopes, handrails and underpass.
PARK FOR NATURE LOVERS & Wildlife
The Bidadari Park will have 19m-wide land bridge to serve as an eco link from Bidadari Park to Hillock Park, in order to preserve wildlife over Bidadari Drive as well as visitors crossing. Special featured structure for wildlife reserve includes Raptor nest platforms, structure on tall trees for birds. These structure will provide shelters for wildlife while the new tree canopy grows.
The rest of the developments in Bidadari will be launched progressively and the details will be announced when they are finalised.
New park near Woodleigh MRT station will be full features town park with Alkaff Lake and underground service reservoir. It will be integrated to future private estate called "The Woodleigh Residences" and The Woodleigh Mall with close to 300,000 sq ft of retails , F&B and a supermarket. After full construction, Bidadari Park & Estate can cater for more than 10,000 residential units.
This article is responding to & analyse the News Article:
"New 10 hectare Bidadari Park to be completed in 2022"

Source: TODAY NEWS (todayonline)
By Cyntia Choo
May 05, 2019