Canninghill piers Location analysis
About Canninghill Piers Location
Canninghill Piers location, one of its best location next to Orchard Road near Dhoby Ghaut Orchard Road, closes proximity to CBD, Marina Bay Financial Centre, Raffles Place Business Hub. The Formal Ling Court Integrated development was enbloc by 2 major developer of Singapore, Capitaland & CDL. The new Mixed Development or integrated development called Canninghill Piers. The name was derived from the Singapore Heritage Park Fort Canning Park next to it on the opposite side of River Valley Road.
This will give an unblocked  beautiful park & greenery view for residents of Canninghill Piers. On the other side will be able to enjoy Singapore river view & Marina Bay view. 
Residential units will be on top of commercial podium called "Canninghill Square". It will be operated by Capitalmall, experience shopping mall operator, the subsidiary of Capitaland. Example of Shopping Malll are Plaza Singapura, ION Orchard, Raffles City, etc.

Canninghill Location & Surrounding
Canning Hill location is in district 06, at fringe of district 09 Orchard & River Valley . The development has existing over head bridge over River Valley Road linked to Fart Canning Park. It will be painted & refurbished to match the New development. 
Residents & visitors will be able to have walk to Dhoby Ghaut MRT Station & Plaza Singapura and all shopping Centre in Orchard Road. For instance: Orchard Central Paragon Mall, 313 Somerset, Takashimaya, Wisma Aria & ION Orchard, etc.
Why Canninghill Piers Location Is One of Its Best
We will start off with different types of Integrated Development or Mixed-Use Development or in layman term Mixed Development.  Nowadays, many know and highlighted about Mixed Development, there are many boon from living in mixed development apartments rather than condominiums. 
Types & Differences to Lands - Land Use
According to Master Plan (Singapore City Planning) Developemnet with the combination of Residential & Commercial uses in the same building only can be done on these 3 types of lands as following:
Mixed Commercial & Residential – "Mixed commercial and residential developments" include a combination of commercial uses and residential flats and may be developed on land zoned Commercial & Residential or Commercial. Canninghill Piers is belong to this type. Size of commercial components  enhanced not only it residents' experiences but Canninghill Piers location & surrounding. Because of the size of Shopping mall,  it stand tall.
•  Real life Project –  Orchard Residences above ION Orchard
Residential with Commercial at 1st storey- "Residential with Commercial at 1st Storey" developments include a combination of commercial uses and residential flats and may be developed on land zoned Residential with Commercial at 1st Storey or Commercial/Residential.
•  Real Life Project – Bedok Residences above Bedok Mall

White Site  – These are areas used or intended to be used mainly for commercial, hotel, residential, sports & recreational and other compatible uses, or a combination of two or more such uses as a mixed development. ( not pre-define uses, subject to proposal & approval). In another word, it is still unknown, can be type 1 or 2. Residential.
•  Real Life Project – Kampong Bugis Project
Comparison of The Same Types of Land Use
The following are our comparison made to all the same types of lands around 500m. to Canninghill Location in above map. There are all together 9 plot inclusicve of Canninghill Piers.
Our Criterias set to 3 main focus as:
Land Size & Shape
Frontage width
View
Connectivity
Land Size & Shape In Comparison
Size & shape play a big role in developing new projects. Though by experience as Architect, small & narrow plots are not suitable to develop as high-rise residential. They tend to be commercial Shophouse projects or 1 row of apartment with one long strips of retails. In this map, the vacent land at Tank Road is such.  It is not comparable.
As the development partially are residential component (top part of buildings). They need to have wider frontage in order to lay the residential unit, 1-2 bays for 1 bedroom, 2-3 bays for 2 bedroom, 3-4 bays for 3 bedrooms & so. Form this idea, you will find that disadvantage for a narrow frontage plot. Out of this 9 plot UE Square score highest in term of frontage & Canninghill Piers cam the 2nd.
As residential development in this area are unique because of it river view, park & greenery view & open view. Therefore Canninghill Piers has maximised its frontage & view. Canninghill Piers location also superb in the sense that sandwich by beautiful river view from front. On the other side beautiful unblocked park view through Foart Canning Park. More over the unblocked distance on 3 side pushed the high-rise window of next elopement further away. This categories Canninghill Piers come at 1st place following by UE Square. However, UE Square has very minimum exposure to river front.
Comparing to The Pier @ Robertson The riverfront quite small, only relied on the back side of site. Robertson Walk is also surrounded by neighbour high-rise towers. 
Canninghill Piers location has good connectivity to MRT Station great exposure as it is just on top of the Fort Canning MRT Station. The 2nd to 4th are UE Square, Robertson Walk & Riverside 48. 
After all Cannninghill Piers Location are more related to or connected to District 09 Orchard Road & its shopping belt than anyone else. I would give Canninghill Piers the best locations this category.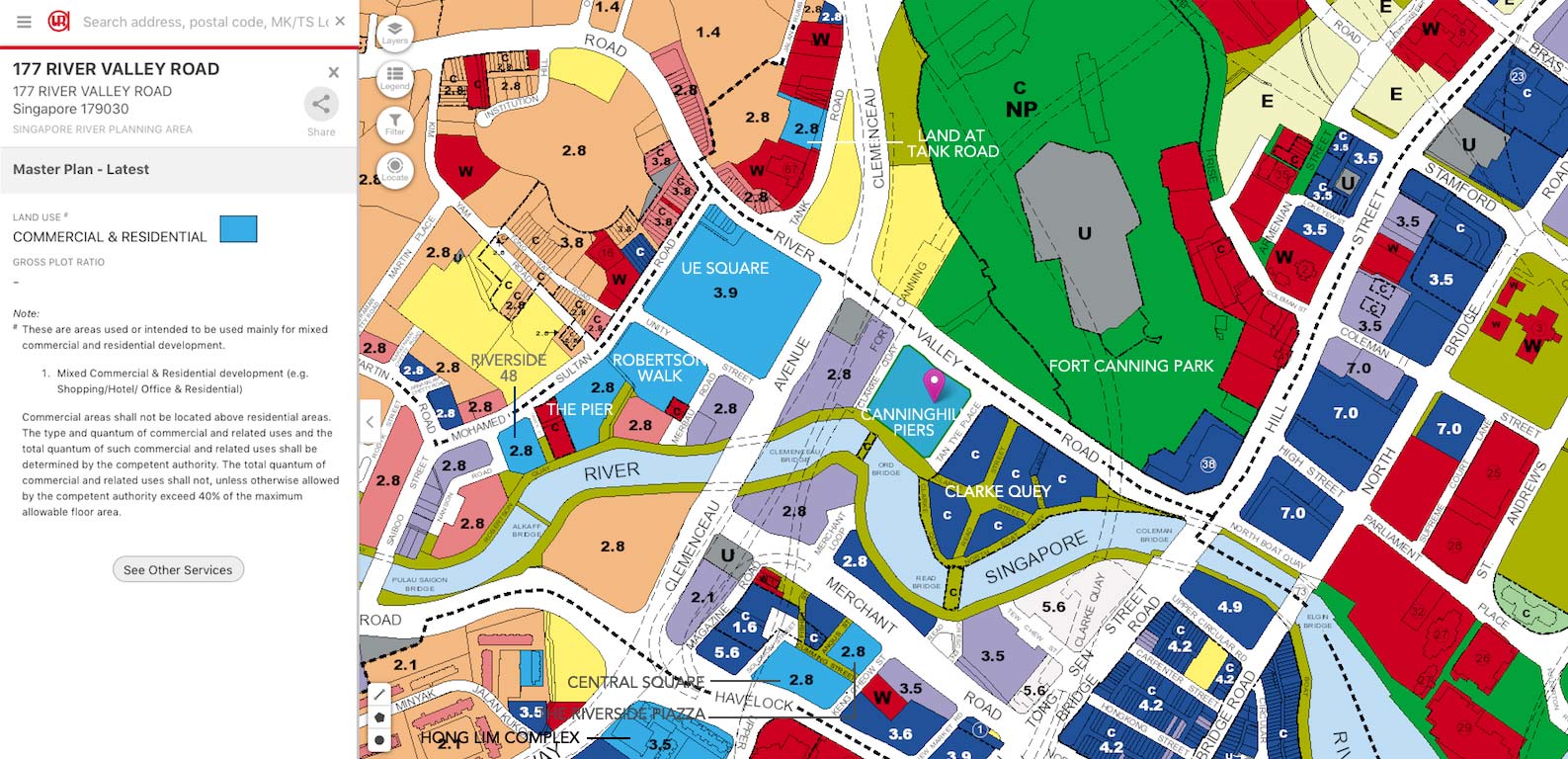 Summary of Canninghill Piers Location
I am not surprise of how good is this location. This site has squarish shape, good size, broad frontage to Singapore River View. More over it has unblocked panoramic view of Fort Canning Park.
The Fort Canninghill location also quiet popular among expat who have high budget rental. Clearke Quay & Robertson Quay are also well-known of Singapore popular F&B spots. No wonder 2 giant developers wanted to involve this. Recommended for all for buyers, investors. Grab.
Surrounding 2 Km from Canninghill Piers Location
MRT Stations Within 1 Km.
Fort Canning MRT Station (DT20) 138m
Clarke Quay MRT Station  (NE5) 351.6m
Dhoby Ghaut MRT Station (NS24/CC1/NE6) 788m
Chinatown MRT Station (DT19) 792.4m
Bras Basah MRT Station (CC2) 870m
Chinatown MRT Station (NE4) 832.5m
City Hall MRT Station (EW13/NS25) 853m
Bencoolen MRT Station (DT21) 928m
Raffles Place (EW14/NS26) 1.0km
MRT Stations Within 2 Km.
Telok Ayer (DT18) 1.09km
Sommerset MRT Station (NS23) 1.16km
Outram Park (DT17/EW16/ NE3) 1.28km
Bugis MRT Station (EW12) 1.51km
Bugis MRT Station (DT14) 1.54km
Rochor MRT Station (DT13) 1.6km
Downtown MRT Station (DT17) 1.61km
Little India MRT Station (DT12/NE7) 1.76km
Jalan Basah MRT Station (DT22) 1.9km
Orchard MRT Station (NS22) 1.97km
Marina Bay MRT Station (NS27) 1.97km
and many more