Irwell Hill Residences | Condo For Sale (D09 ) Orchard - River Valley
Irwell Hill Residences, an iconic luxury development by CDL, closes proximity to Orchard Road, 138 m. to Great World City Shopping Mall and MRT Station.
First and foremost the Precious development by City Development group is in district 09 of Singapore. Strategically, it situated on hill slope piece of land at the junction of Irwell Bank Road & River Valley Road. Amazingly It has a convenience location near Great Work City Shopping Mall. Residents of Irwell Hill will be able to enjoy shopping and F&B services in this area. Undoubtedly, River Valley Road is also well known to all as F&B hotspots in town. It links from Orchard Road and many F&B hotspots for example: Robertson Quey, Clarke Quey, Boat Quey, etc.
Most Importantly, it located near one end of River Valley Road situated in fringe of Singapore Rental Business District (CBD). It will ease time for traveling to CBD for work & leisure. Ultimately resident has full choices for commuting either by road or Mass Rapid Transit (MRT) line. Eventually, Great World City MRT Station exit at River Valley& at Kim Seng Road  will be 135 meter & 344 metre away. Great World City MRT Station is part of the Thomson – East Coast MRT Line phase 2 will be operate in quarter three of 2021. Orchard Station is just 1 stop away from Irwell Hill.
Apparently, City Development set to launch the Irwell Hill Residences condo in first quarter of 2021. Please stay Tune.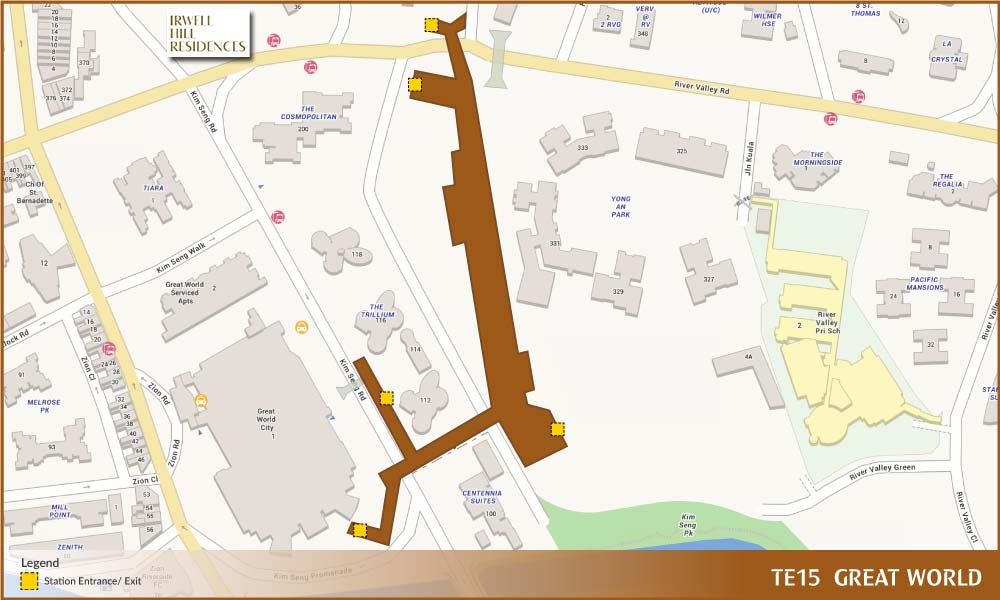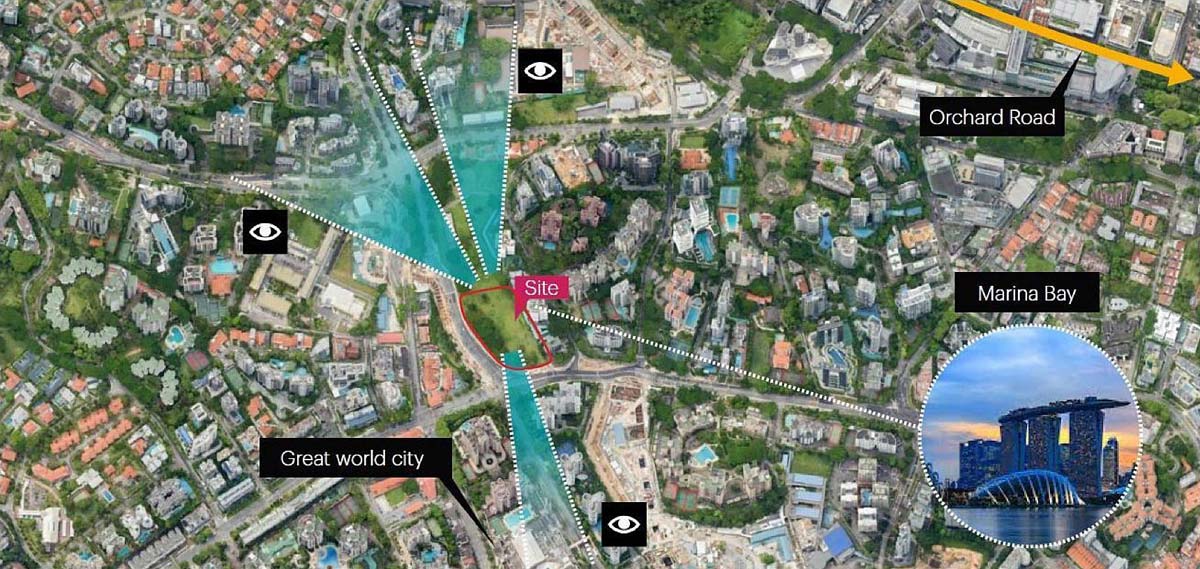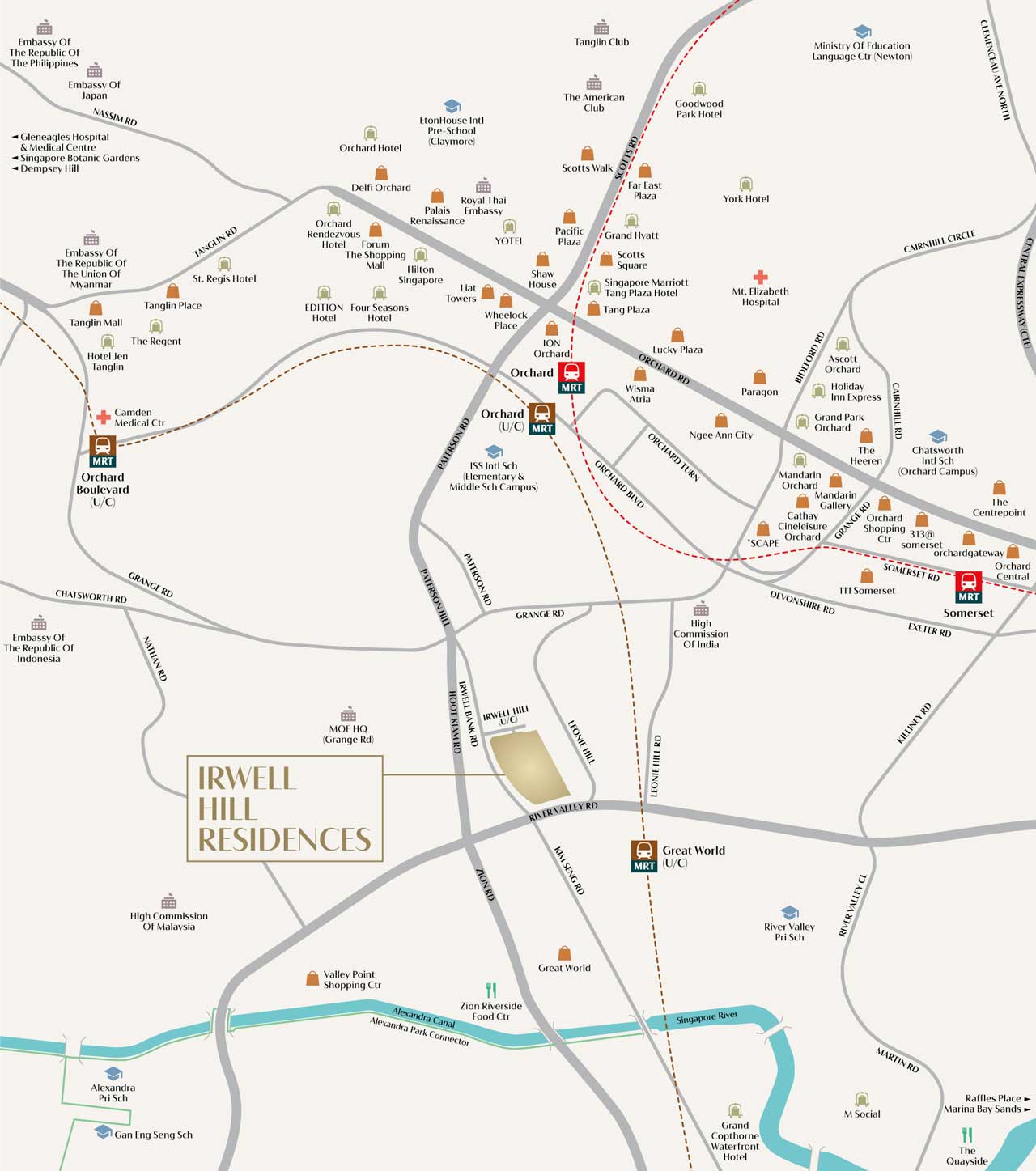 Site Map of Irwell Hill Residences
Remarks: Subjects to authority approval & changes.
Facilities / Amenities of Irwell Hill Residences
 
GROUND FLOOR
 
SECOND FLOOR
01
Arrival Plaza
24
Club at
Irwell
02
Arrival Lobby
25
Tree Top
Gourmet
03
Reading Lawn
26
Club Pool
Deck
04
Sculpture
Lounge
27
Club Pool
05
Sculpture
Lawn
28
Club
Alfresco
06

Raintree
Lounge

 
 
07
50m Raintree
Pool
 
 
08
Social Lounge
 
OTHERS
09
Social Lawn
A.
Guardhouse
10
Raintree
Lawn
B.
Side Gate
11
Spa Pool
C.
Substation
12
Spa Lounge
D.
Bin Center
13
Pet's Play
E.
Water Tanks
14
Wellness
Lounge
F.
Carpark
Ventilation
Shaft
15
Play Pool
+-+
+ +
+-+
Water Tank
Location
16
Gym at
Irwell
 
 
17
Gourmet BBQ
 
 
18
Playground
 
 
19
Tennis Court *
 
 
20
Tranquillity 
Court
 
 
21
Steam Room
 
 
22
MA Office
 
 
23
Residential
Services
Reception
 
 
Draft Floor Plan for Irwell Hill Residence Showflat
Remarks: Subjects to authority approval & changes.
Fact Sheet of Irwell Hill Residences
Developer: CDL Perseus Pte. Ltd.
Location / Address: Irwell Hill (off Irwell Bank Road)
District: 09
Development Type: 2 Blocks of 36 storeys of residential units.
Total Units: 540
Tenure of Land: 99 years commencing from 13 April 2020
Expected T.O.P.: TBA
Expected Vacant Possession: TBA
Site Area: 137,633.88 sq ft / 12,786.5 sq m
Carpark Lots: TBA
Shopping Centre:
Shopping Centre: Great World City 
ION Ochard
MRT Station: 
Great Word City Station 135 m
About The Developer - CDL Group
About The Developer of Irwell Hill Residences – CDL Group
Certainly, CDL is one of the reputable & major developer of Singapore who made many successful stories for Singapore Real Estate sector. In the recent year, CDL had archived numerouse international awards. Indeed, it is impossible to enumerate here all the efforts  of CDL in Property Development. However, some significant recognition for various international organisations to developments done by CDL might say something about this development, the Irwell Hill Residences.