Irwell Hill Residences Floor Plan & Site Plans
Please note that the Irwell Hill Residences' floor plans shown below are draft copies. As of today developer is still waiting for the final approval of its development planning submission.  However  they might be useful for visitor who have interest in taking up the project. Unlikely but still possible that it might be a minor differences after the final approval. Above all, we wanted to high-light about whom these types of units suitable for.
Site Plan of Irwell Hill Residences
Architectural cross section sketch of Irwell Hill Residences showing existing ground terrain.
In the past, this site also known to many neighbourhood to be a showflat sites. For instance: The Latitude, Urban Resort, Interlace & many more. It also obviously cover by green huge canopy of trees. The project name derived from a small road brach out from Irwell Bank Road called " Irwell Hill Road". Therefor the future registered address will be No. 2 Irwell Road & No.6 Irwell Road.
Irwell Hill Residences is siting on the elevated ground. The inner side of site is hill peak which is  about 3 storey higher than River Valley Road. While middle of site higher than main road about one half storey. With this reason those facilities in the middle of site & the inner end will have the unblocked open view. (please refer to above Architects'  cross section)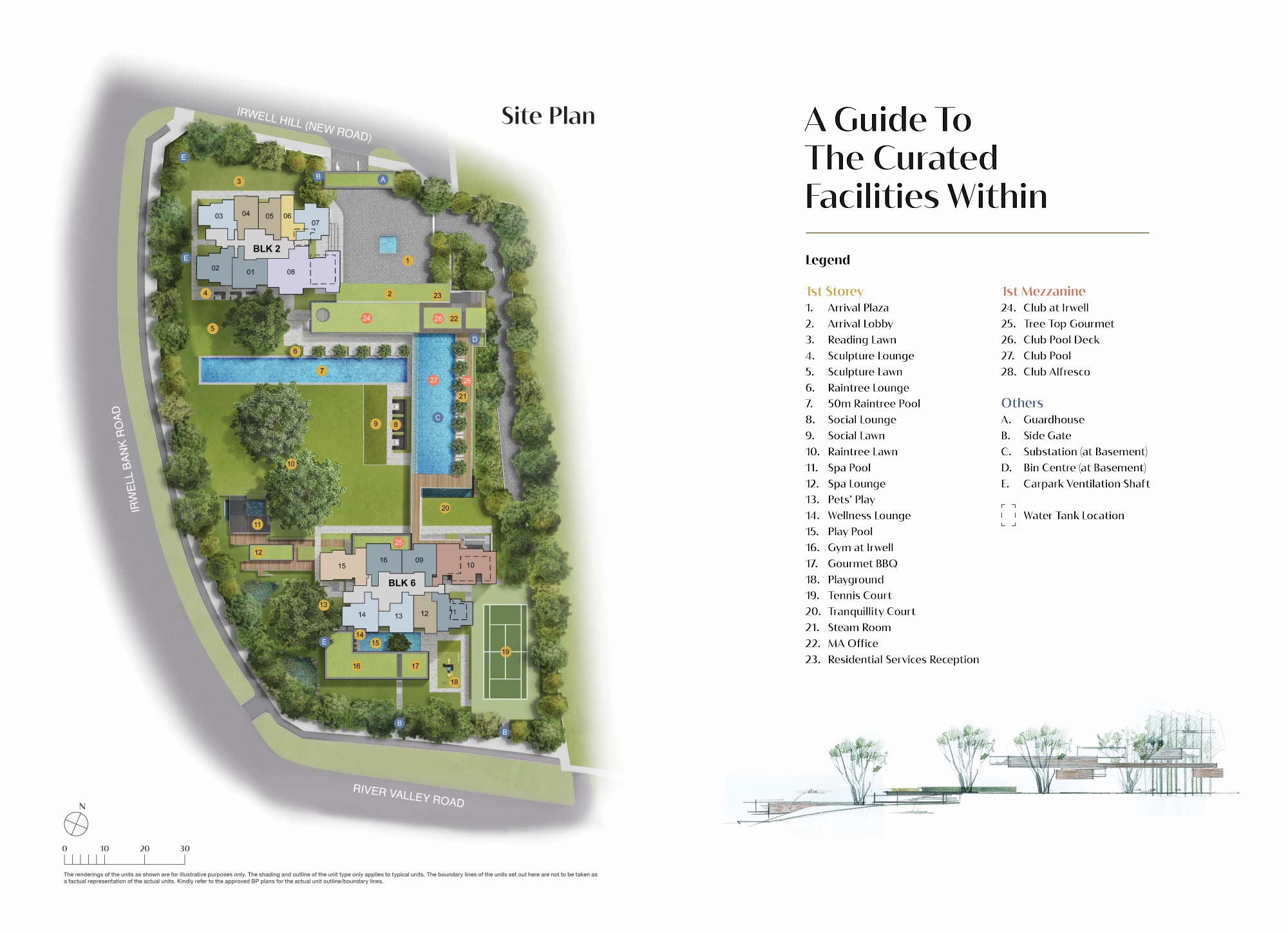 Irwell Hill Residences Floor Plans
Most important point to take note here. It's about developer of Irwell Hill Residences concept plan onthe percentage of unit types of this development.
City Development (CDL) has a provided a wider choices and that matched the profile of the buyers of this period. Therefore, we believed the development will be fully taken up in a short time. The reason behide is all units was divided into many types. Each types is suitable to different groups buyers. From the units types below, you will realised that not many units available for each types. For sure, this is going to be balloting system & it will be fully sold sooner. Be ready!
Unit Types of Irwell Hill Residences, why so important?
 Although it has 540 units but the unit types in Irwell Hill Residences cleverly plan by CDL.  majority are studios & small units, each type has proportional takers that suitable for 2021 en bloc fever. Look at this scenarios:  a family of four sold their en bloc house, & looking to buy new house. probably they not many owners need a 3-4 bedders. instead they need 2 or 3 smaller types as family is turning to be few small families. While the number of 3-4 bedders are only made 102 units which is 18% of overall. Here are the full list of units provision in Irwell Hill Residences.
irwell Hill Floor plan types & numbers
| Type | Area(Sqft/Sqm) (low) | Area(Sqft/Sqm) (high) | Units |
| --- | --- | --- | --- |
| 1BR + Study | 452 | 667 | 102 |
| 2BR Classic | 603 | 764 | 135 |
| 2BR Premium | 657 | 829 | 167 |
| 3BR Classic | 861 | 861 | 33 |
| 3BR Premium | 1,270 | 1,270 | 33 |
| 4BR Premium | 1,539 | 1,582 | 33 |
| Sky Penthouse | 2,185 | 2,605 | 3 |
| Studio | 398 | 614 | 34 |
Irwell Hill Residences Floor Plan
Studio | 1 Bedroom + Study Lay Out
2 Bedroom | 2 Bedroom + Study Lay Out
2 Bedroom Units are suitable for:
Property Investment
Single Buyer who need more space 
Retiree Couples with care takers
New Wed Couples
Small family
Expat
Buyers who work from home
3 Bedroom | 4 Bedroom + Study Lay Out
3 Bedroom & 3 Bedroom Layout are suitable for Own use, Medium & large Family.
Schematic Diagram of Irwell Hill Residences
Schematic Diagram (elevation chart) reflects Irwell Hill Residences floor plans unit types & size of unit. Unit type with indication "L" behind unit type refer to the unit with double volume hall.
Information includes but not limit to schematic charts, site plan, floor plan, units size, number of units are subject to changes & availabilities.Term & condition applied.