Midtown Modern (D07) Bugis
GuocoLand, by Mr. Cheng Hsing Yao, group managing director of GuocoLand Singapore, unveiled its plan for the 124,122 sq ft, residential development site on Tan Quee Lan Street. Called Guoco Midtown II, the new development will be an extension of GuocoLand's Guoco Midtown mixed-use development located directly opposite on Beach Road. By linking the two sites with an underground tunnel, the result is a mega development with an enlarged footprint of 3.2ha and maximum gross floor area of 1.5 million sq ft.
At Guoco Midtown II, the residential component is Midtown Modern, comprising two 30-storey residential towers with over 500 apartments. The apartments are a mix of one- to four-bedroom units, catering to singles, couples, families and even empty nesters. The development will focus on wellness, with large green spaces and a wide range of recreational facilities. – Midtown Modern (D07) Bugis New Launch
Midtown II & Midtown Modern (D07) Bugis new launch
GuocoLand, by Mr. Cheng Hsing Yao, group managing director of GuocoLand Singapore, unveiled its plan for the 124,122 sq ft, residential development site on Tan Quee Lan Street. Called Guoco Midtown II, the new development will be an extension of GuocoLand's Guoco Midtown mixed-use development located directly opposite on Beach Road. By linking the two sites with an underground tunnel, the result is a mega development with an enlarged footprint of 3.2ha and maximum gross floor area of 1.5 million sq ft.
At Guoco Midtown II, the residential component is Midtown Modern, comprising two 30-storey residential towers with over 500 apartments. The apartments are a mix of one- to four-bedroom units, catering to singles, couples, families and even empty nesters. The development will focus on wellness, with large green spaces and a wide range of recreational facilities.
Adaptable living spaces - Midtown Modern
The apartments at Midtown Modern (D07) Bugis are designed with spaces that are adaptable to meet changing lifestyle needs. For instance, parents working from home with children on home-based learning, would require multiple workspaces, not just one, says Cheng. "The most important is to ensure that the space is convertible — whether for sleeping or as a workspace".
Naming the project "Midtown Modern" was intentional as the concept is about living in a garden, which is similar to Martin Modern, GuocoLand's other project in Martin Place, which is about living in a Botanic Gardens setting in prime District 9, relates Cheng. Both are centred around the idea of the modern, hectic lifestyle, where coming home represents a complete change of pace, where one can relax and connect with nature. "Even for those who work from home, there's a need to wind down after work. The quality of life is enhanced if there's a lot of greenery and recreational facilities."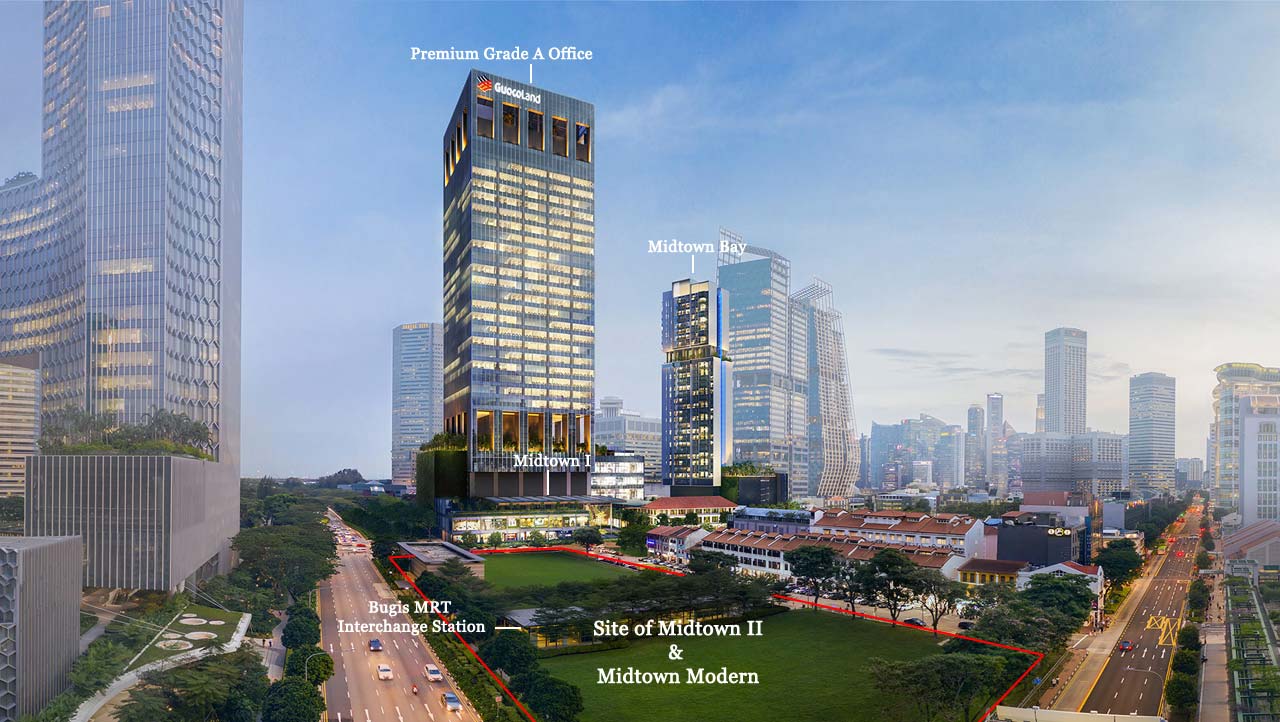 Retail clusters, MRT access At Midtown II
Having amenities at one's doorstep is equally important. At Guoco Midtown and Midtown II, there will be three low-rise, retail and F&B clusters, each fronting a public space. Two of the retail clusters are at Guoco Midtown: Midtown Garden along Beach Road, and Mid- town Market directly behind the conserved Old Beach Road Police Station building. The third retail cluster is Midtown Square at Midtown II and is located above the Bugis interchange MRT Station and fronting Tan Quee Lan Street.
GuocoLand will carry out active place management of these public spaces. The Beach Road-Bugis area has all the locational characteristics of a 'Midtown', with the confluence of business, entertainment, culture and the arts as well as residential, GuocoLand wants Guoco Midtown and Midtown II to be the anchor of the area. Guoco Midtown is expected to be completed in phases from 2022 to 2024.
Sense of living and working in nature and promotes well-being
 Dedicated facilities, wellness. – Midtown II
Within the development are 20 thematic gardens and landscaped public spaces spread across Guoco Midtown and Midtown II. They cover the ground floor, various podium levels and even the rooftops of the towers and add up to 3.8 ha, which is bigger than the combined footprint of the site.
The office tower for instance has its own gardens on levels 7 and 30, a 40m lap pool, a 100m jogging track, an event plaza and party pavilions on the rooftop of the tower, with views of Marina Bay and Kallang Basin.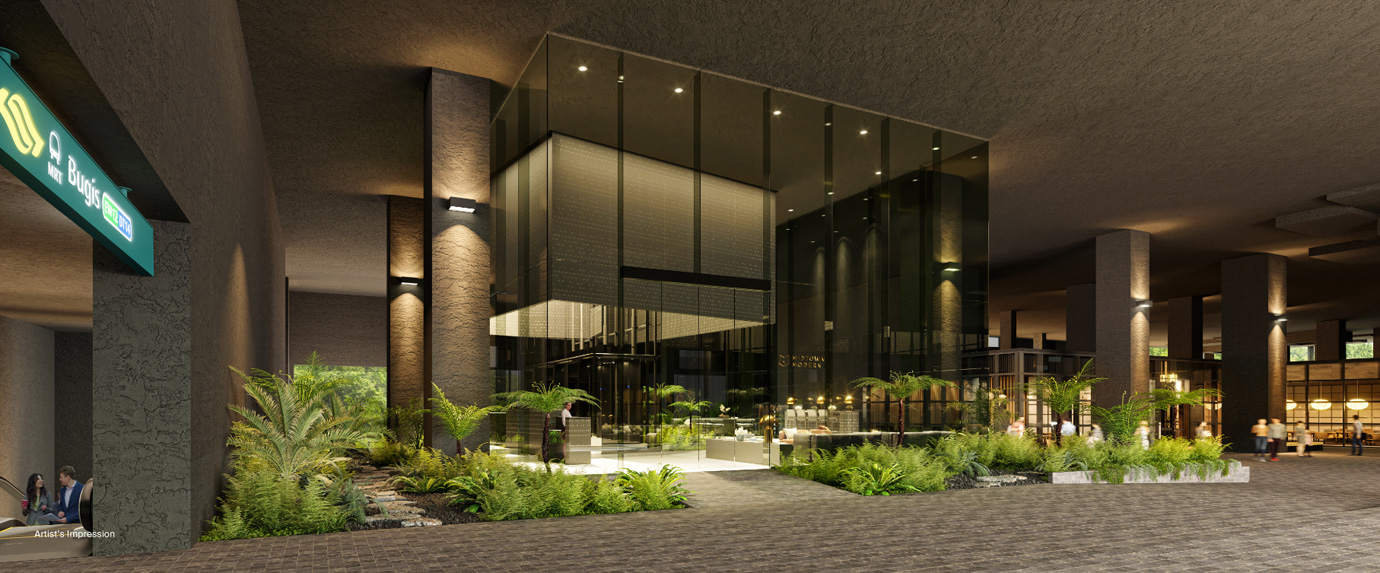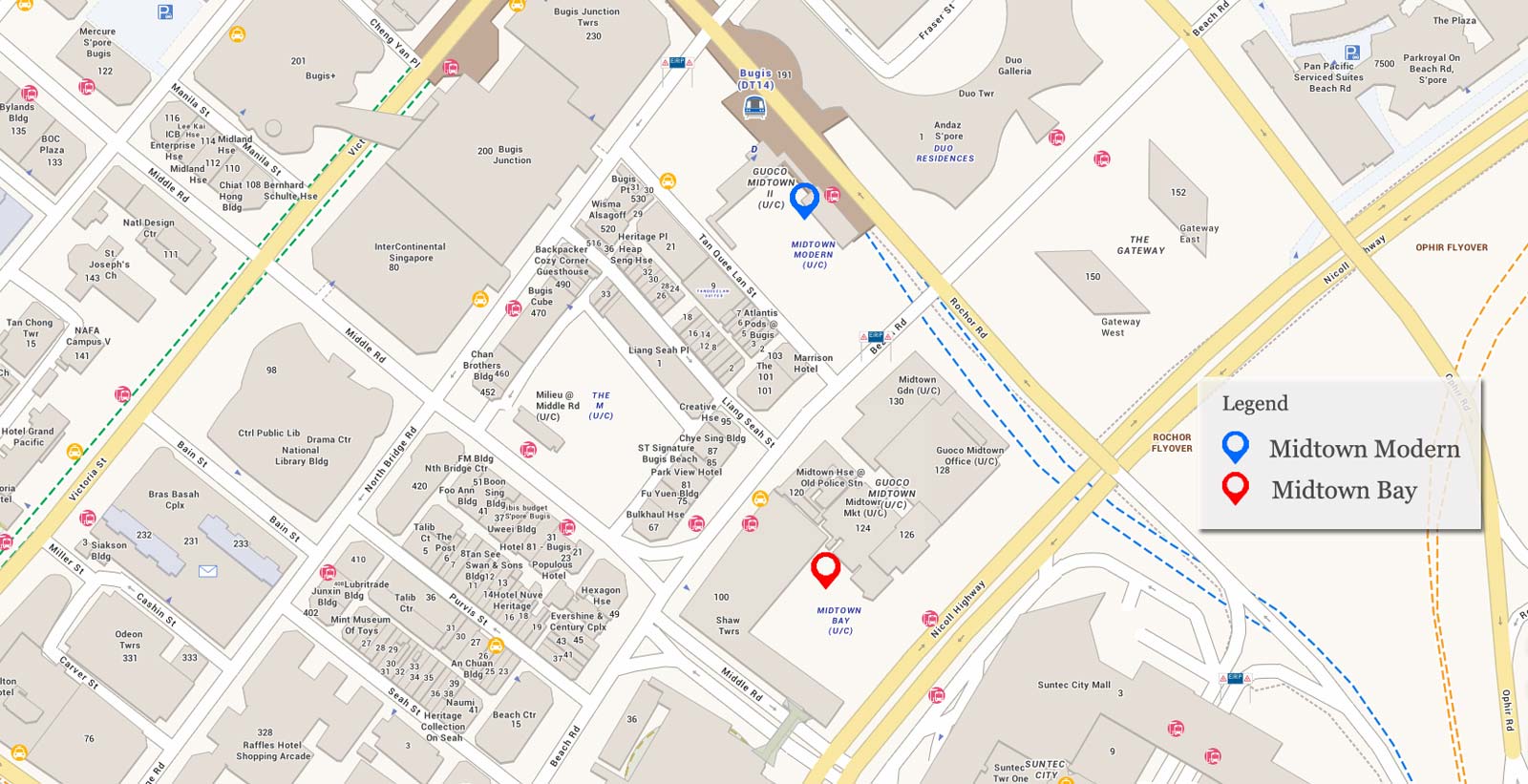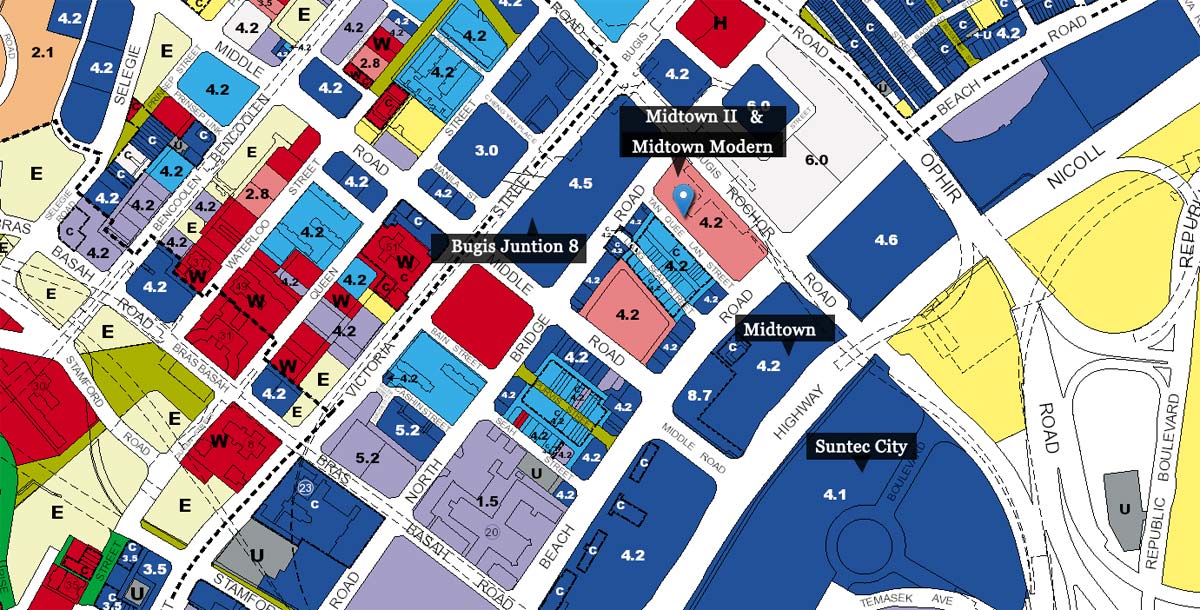 Fact Sheet of Midtown Modern (D07) Bugis new launch near Bugis Junction & Suntec City
Project Name: Midtown II – Midtown Modern
Developer: GuocoLand
Address: Tan Quee Lan Street
District: D07 – Beach Road / Bugis / Rochor
Tenure: 99 Years
No. Of Units: 540 (TBC)
Site Area: ~11,531.3 sqm. (124,122 sq.ft)
Plot Ratio: 4.2
Land Use: Residential With Commercial At 1st Storey
No. of Storey: 30
Expected Date Of TOP: 2024 (TBC)
MRT Stations
CC3 Esplanade (0.4km)
CC4 Promenade (0.55km)
DT15 Promenade (0.55km)
EW13 City Hall (0.67km)
NS25 City Hall (0.67km)
CC2 Bras Basah (0.75km)
CC5 Nicoll Highway (0.78km)
DT21 Bencoolen (0.83km)
Shopping Centres
Suntec City
Raffles City
Marina Bay Mall
Schools
Tampines Secondary School (0.4km)
Stamford Primary School (0.82km)
For more information of Midtown Modern (D07) Bugis
New launch near Bugis Junction & Suntec City.
Please Cal 8181-7777 Paul
Developer of Midtown Modern (D07) Bugis New Launch by GuocoLand
Guocoland Limited
Guocoland is one of the most reputable developers in Singapore, and their Group's portfolio comprises of residential, hospitality, commercial, retail and integrated developments spanning across the region. In Singapore, the Group has successfully developed 35 residential projects yielding approximately 10,000 apartments and homes.
In addition, Guocoland is also the winner of numerous awards and accolades consistently, making them one of the most trustworthy developers in the property scene. Some of them include environmental sustainability awards such as the Building and Construction Authority (BCA) Green Mark Awards and Leadership in Energy and Environmental Design (LEED) Pre-Certification, as well as real estate awards honouring the best property companies such as the International Property Awards, FIABCI Property Awards, BCI Asia Awards and South East Asia Property Awards.