Private Residential prices in Singapore went up by 0.8% in Q3
Pandemic & Fear of Recession does not stop the rise of private residential prices Singapore. URA release the index on Friday (Oct 23) showing clear picture. Property index remain unchanged at 0.8% from previous quarter in URA flash estimates flash estimates.
In Q1'2020, private residential prices index dropped 1% from year 2019. After then, It started moving upwards by 0.3% in Q2'2020 and slightly moving up 0.1% in Q3'2020.
After phase 1 of circuit-breaker, landed properties & fantastic sale of city-fringe condos contributed to rise. Well doing buyers & Long-term Investors diverse their risk from volatility investments in to property market. Real estate consultants saw Singaporean buyers bought condo make up closes to 80% of overall. Realis showing that the mentioned percentage of local buyers is highest since 2010. Real Estate Information System (REALIS) is Government internet portal for supplying subscribers access to real estate information.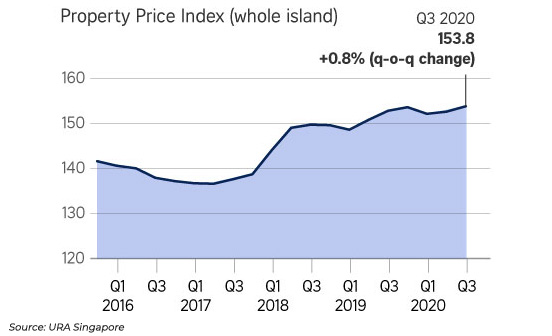 Trends of private residential prices
Subsequently, Authority had stop the practice of multiple times reissuing of options. The reissuing of options help buyers to extend the time for exercise and completion of property. As a result Clearly, no matter how strong buyers' interest, private residential prices will move up moderately from now.
On the other hand, number of foreign buyers' purchase also increased to 255 twice from previous quarter to 119. Sales amount could be from those who setup companies for operation in Singapore. Moreover mortgage interest at lower rate are important factors that boost the private residential prices. Analyst says. URA will release new information about private residential prices index again around mid of next month. 
This article is responding to & analyse the News Article:
"Singapore private home prices rise by 0.8% in Q3 amid recession"

Source: The Straits Times
By Grace Leong
Oct 26, 2020, 7:32 PM >