Private residential prices may rise against 2021 economy recovery | Singapore News
Prices of Private Residential properties rising due to valid 3 factors.
PUSH FACTORS
Higher new launch projects prices set new high.
Construction costs are effected by Safety Measures during Pandemic
Lower banks' mortgage loan interest rate
PULL FACTORS
Partial Recession & Economy uncertainties.
Private Property Market Information
Price index Private Residential in Singapore rose by 2.7 in 2019. It continue to rise again 2.2 percent, even-though Singapore was under lock down, due to pandemic in 2020.
Recently, Urban Redevelopment of Singapore (URA)  has released Q4 2020 property price report. It says private residential property index rose 2.1 compared to to previous quarter. It considered the highest since Q2 2020.
It went against the economy slowdown by 5.8 percent. One of the factor is due to banks cut their interest, Maybank Kim Eng economist said. He also highlight that economy is only slowing down in some certain sectors, not all. Although there was partial recession, some sectors or industrial still growing well.
Private Residential Properties Price Index 2015 - 2020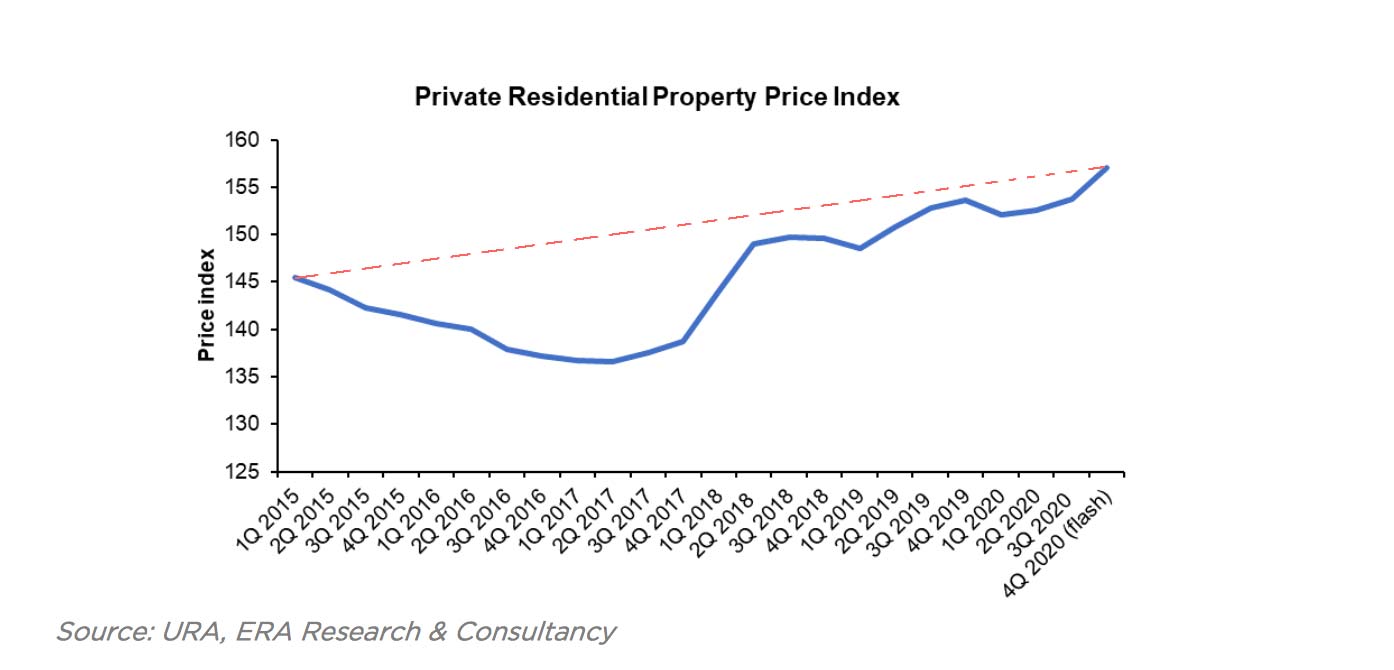 Propnex CEO mentioned that buyers still have confidence & prospect in property market. They also looking to brighter circumstances after Covid-19 vaccines released.
Over all Market was lead by prices of apartment & condo in the Rest of Central Region (RCR) and Core Central Region (CCR). It rose up by 3.2% quarter-on-quarter in Q4. Non-landed properties price in Q3 from Q2 before rose up again by 3.3 in Q4 of 2020.
The Rest of Core Region (RCR) incredible 4.8% due to the new launches sales in Q4. Those new launches are he Linq@Beauty World, Notably & Landmark. With all launches in prime area & city fringe, private residential price might be be pushed up to approximately 3-5% this year. Another valid reason is, the high construction cost due to difficulty for material & labour cost due to pandemic's "Safety Management Measures".