The Provence Residence EC (Executive Condominium)
The Provence Residence EC (Executive Condominium) , the latest new launch EC near to Canberra MRT-Sembawang MRT. In fact, it's one of the best convenience location for residential condo, specially for EC.
In general, the word "Provence" is the name of former province of SE France, on the Mediterranean coast east of the Rhône. Later it was settled by the Greeks in the 6th century bc, the area around Marseilles became. Back in the 1st century bc, part of the Roman colony of Gaul. Finally, it was united with France in 1481 and is now part of the region of Provence–Alpes–Côte d'Azur.

Origin of word: from Latin provincia 'province', a colloquial name for southern Gaul, the first Roman province to be established outside Italy.
Location of Provence Residence EC
The development site is at the junction of Canberra Link & Sembawang Road. To put it another way, It's opposite the Visionaire on Canberra Link, then sub-entrance to Bukit Canberra. On the other hand, it's facing to Montreal Park on Sembawang Road. Without a doubt, this exiting new launch will be sold quickly as predicted by agencies. Because of it came after Parc Canberra EC, the one that sold quickly even during the pandemic. To date, the mentioned project has been sold up to 90% & has lesser good choice units. Likely, existing buyers are ready to take up the initial release unit.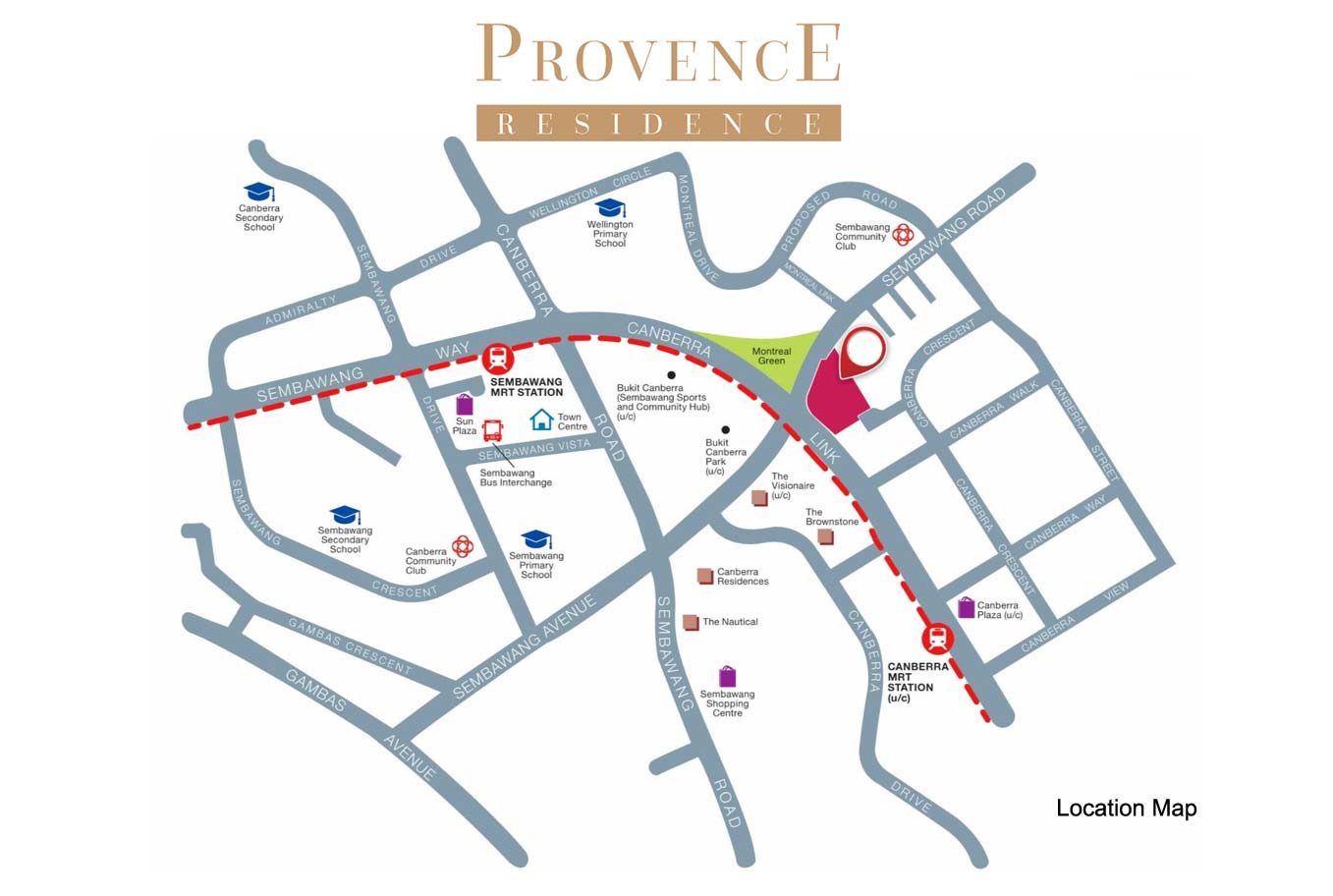 North-South Line MRT - Family Leisures
First of all, Provence Residence EC located near 2 MRT Stations, which are Canberra MRT Station(NS12) & Sembawang MRT(NS11).  Especially this North-South line is linking to many important parts of Singapore. In term of family leisures, On the way towards CBD, it also bring you to Yishun, where Northpoint City mall located. And then, Bishan station next to Bishan Junction 8 mall. While on the other direction is Sun Plaza Mall at Sembawang Station.
Moreover, this MRT line also passes through Orchard, Somerset & Dhoby Ghaut, the trio stations in Orchard Road, world renowned shopping destination.  And also, Novena Station where you can enjoy shopping in Novena Square, Velocity, Square 2, United Square Mall & more. And then City Hall station to visit Raffles City Shopping Centre. On one end is Marina Bay, Singapore Financial Hub, and also Raffles Place the existing CBD, also visit The Shoppes At Marina Bay Sands & other interesting places. For instance: Singapore Flyer, Gardens By The Bay, etc. Interestingly, on the other end will be Jurong East. The newly developed CBD, Jurong Lake District. Your Family will enjoy every moment at Provence Residence.
Green & Serene for both inside & outside.
Obviously, It is not only inside project landscape & greenery but also on the surrounding of project site.  Canberra Link is one of the road that complete with well maintain landscape. Front of Provence Residence site facing The landscape cladded, The Visionaire. Next to it is the sub-entrance walk way uphill to Bukit Canberra (Old Admiralty Hill site). 
 NetworkOn the Sembawang Road, Provence Residence EC site facing Montreal Green Town Park (now, under partial renovation). Expected to be good view for low floor units. This town park also provides alternative to residents who like to do bliss walk or jogging nearby. This park also link to Yishun Park, Canberra Park & other parks via Park Connector Network. 
Bukit Canberra is the latest government development amenity on the existing Admiralty Hill.
The former Admiralty House site was redevelop and design to be Sembawang & Canberra Sports and Community Hub by integrating the existing cluster colonial design houses. Amenities and public facilities of the club includes gardens and Therapeutic Gardens, the Butterfly Garden, the Fruit Orchard and Food Forest, community plaza, running trails, natural setting pool, the Sunken Garden, swimming complex and clubhouses where residents and members of public will be able to use gymnasium, Forest Gym, Indoor Sport Hall, Active Health Lab, Active Health Nutrition Studio(which will be supported by Active Health Experts and also unique service e.g. polyclinic, senior care centre(as senior citizen in Singapore are increasing) Bukit Canberra Project schedule to complete in 2021.
Unique Parks & Water Recreations
Residents of Provence Residence EC may find it's are very enjoyable to spend sometimes with family & loved ones in our neighbourhood unique parks & water recreations. These are includes Lower Seletar Reservoir & Park & Sembawang Park & Beach. The 15 ha Park open from 7am-7pm. Take bus No. 882 from Sembawang Interchange or bus stop infant of blk 592A Montreal Link.
Moreover, Enjoy the serenity & stunning view of Lowe Seletar Reservoir located near Khatib MRT Station or take direct bus number 117 from Provence Residence EC.
Fact Sheet of Provence Residence EC
Project Name: Provence Residence Executive Condominium
Developer: MCC Land (Canberra) Pte Ltd
Street Address: 23-39 Canberra Crescent Singapore 757078
District: D27 – Sembawang / Yishun
Tenure: 99 years Leasehold
No. Of Units: 413 Residential Units(est)
Site Area: 16,690.0 sqm/ 179,651 sq ft
Plot Ratio: 2.3
Permissible Gross Floor Area: 38,387.0 sqm
Storey Height: 5 residential Block of 13 Storey & 4 block of 11 Storey
Types of Units:
3 Bedrooms 883-1206 sq ft
4 Bedrooms 1399 sq ft
Car Park: 418 lots+ 5 handicap lots & 70 bicycle lots
Payment: *Deferred Payment Scheme*
Expected TOP: 10 Apr 2026
Targeted  Preview: Feb/Mar 2021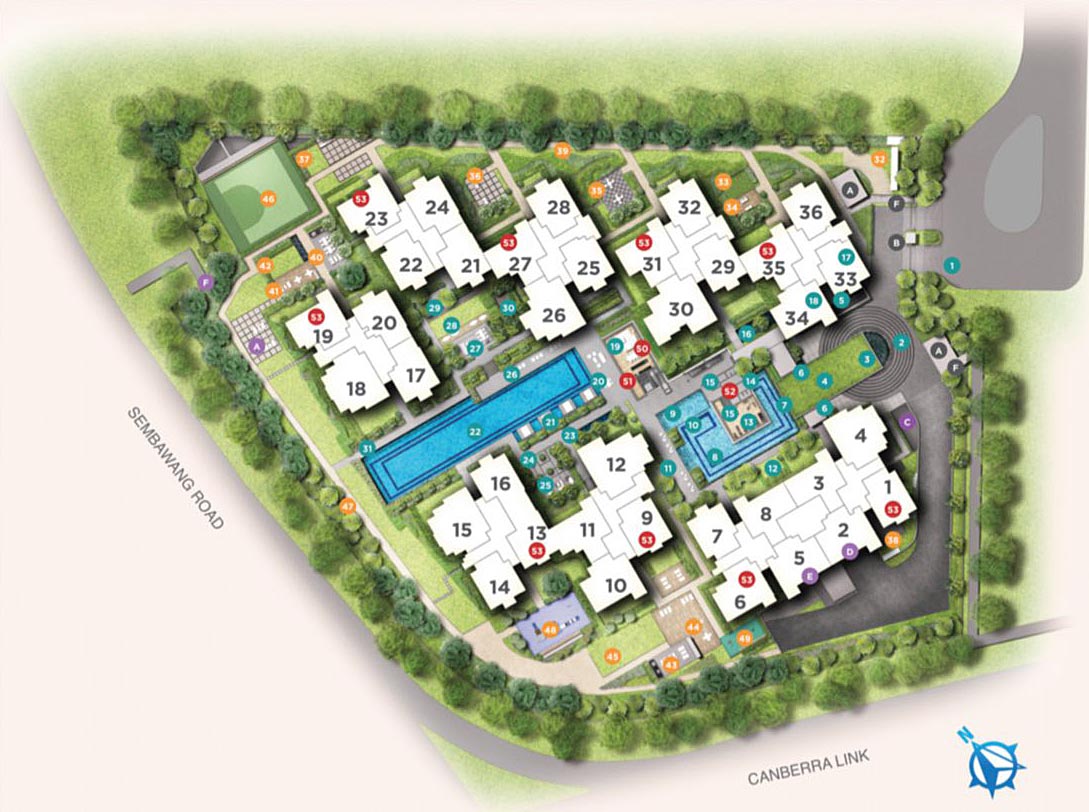 REVIEW OF Provence Residence EXECUTIVE CONDOMINIUM
After all, the Provence Residence floor plans has reflect  it quality lifestyle of this development. Therefore, we would like to hi-light some certain layout of  uniqueness and urgency during the Provence Residence launch.
Something important to take note that only some of the units has all ensuite bathroom. Eventhough they have the same initial purchase price. However upon TOP or thereafter, those units with all ensuite bathroom might be in a very high demand in resale market. Comparatively their resale prices might be much higher than other layout. 
We emphatically asked buyer to look at these units first & secure it as soon as they can.
Floor Plan of Provence Residence EC
The above floor Plans are just part of the full Provence Residence Floor Plan released by developer. You may download the full floor plan in pdf format here. >> Provence Brochure download link.
Please take note that these floor plans are subjects to authorities approval & developer changes. 
DOWNLOAD LINK | PROVENCE FLOOR PLANS
Price of Provence Residence EC
TYPE C1-C5 | Typical 3 Bedroom

$970,000

size 883-1066 sq ft (indication price starting from..)

TYPE C5-C6 | Bedroom with Dual Master Bedroom

$1,100,000

size 1206-1249 sq ft (indication price starting from..)

TYPE D1-D2 | Typical 4 Bedroom

$1,330,000

size 1399 sq ft (indication price starting from..)
Remarks: Prices are subject to changes by developer
Developer of Provence Residence : MCC Land
In the building and developmental aspect, MCC Land (Singapore) Limited focuses on reliable procedures, technology as well as effective logistics planning. Every project, the company aims to promote environment awareness and incorporate environmentally-friendly high qualities through Greenmark initiated construction, civil construction and technological innovations.
In actual fact, MCC is one of China's initial 16 state-owned leaders in the building and construction sector, real estate development is one of MCC Team's primary company.
As the local arm of MCC Group in Southeast Asia, it is a new force to be reckoned. In Singapore's real estate market, MCC Land (Singapore) Limited has actually developed, co-developed as well as managed a total of 12 developments consisting of mixed development projects, private condominiums as well as executive condominiums (EC) with a total amount of 5,000 residential units and total area of 500,000 square metres in the city and fringe areas in the last 5 years. The firm has actually been ranked amongst the leading 10 realty developers in Singapore by BCI Asia Top 10 Developer's Award.
Recently, MCC Land (Singapore) Limited has actually been strongly increasing presence in South East Asia through business partnerships like joint ventures, management and various other form of collaborations.
MCC Land is proudly presents the latest development in the north, Provence Residence EC.