Singapore Census & Effect to Real Estate Market 2021
Real Estate Market 2021 Effected by Singapore Census, directions which property investor & those home buyers should aware. This podcast analysed by Nicholas Mak Head of Reserch & Consultancy of ERA Singapore. Don't be too quick to search for condo for sale & apartment of EC for sale till you see this!
Singapore demographical changes & Effect to Real Estate Market 2021
Singapore total population grew by 1.1% in 2021 compare to 2020. In the past 10 years population increased from 5.08 million to 5.69 million. Among this the percentage of Singapore citizen & PR residents increased from 3.32% to 3.52%. While the rest are non-residents. Non-residents referring to working professionals, Employment Pass Holders, Domestic Helpers & Foreign Workers, etc.
Number of Married residents are decreasing in the past 10 years from 59.4% to 58.8%. Over the 10 years period fertility rate also slightly dropped. In 2020 ever-married resident females aged 40-49 years had 2 or more children.
In term of life expectancy, at birth of Singapore residents has increased by 2 years compared with the decade ago. Data from Department of Statistics shown that average living period of resident in 2020 increased from 81.7 years to *83.9 years. Women living longer at average age of 86.1 years while men are at 81.5 years. Residents of age 65 years & above increased significantly from 2010 13.5% to 23.4% in 2020.
The data, also suggested that residents' household sized is smaller from 3.5 persons to 3.3 persons per household.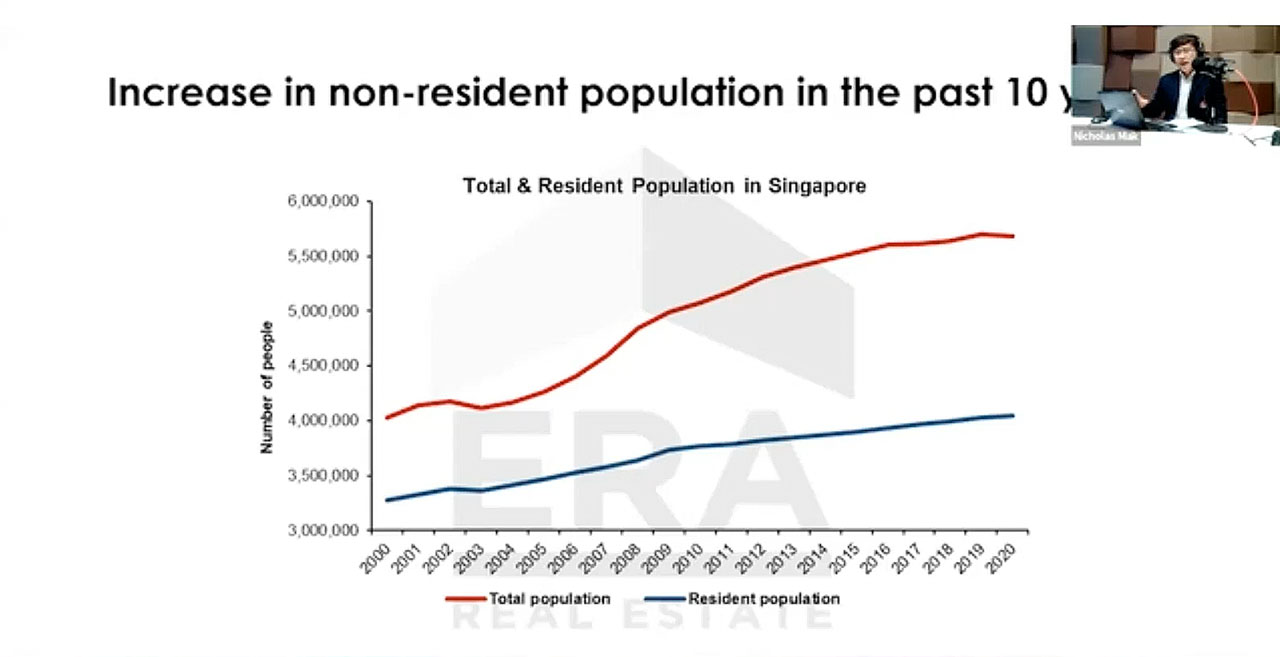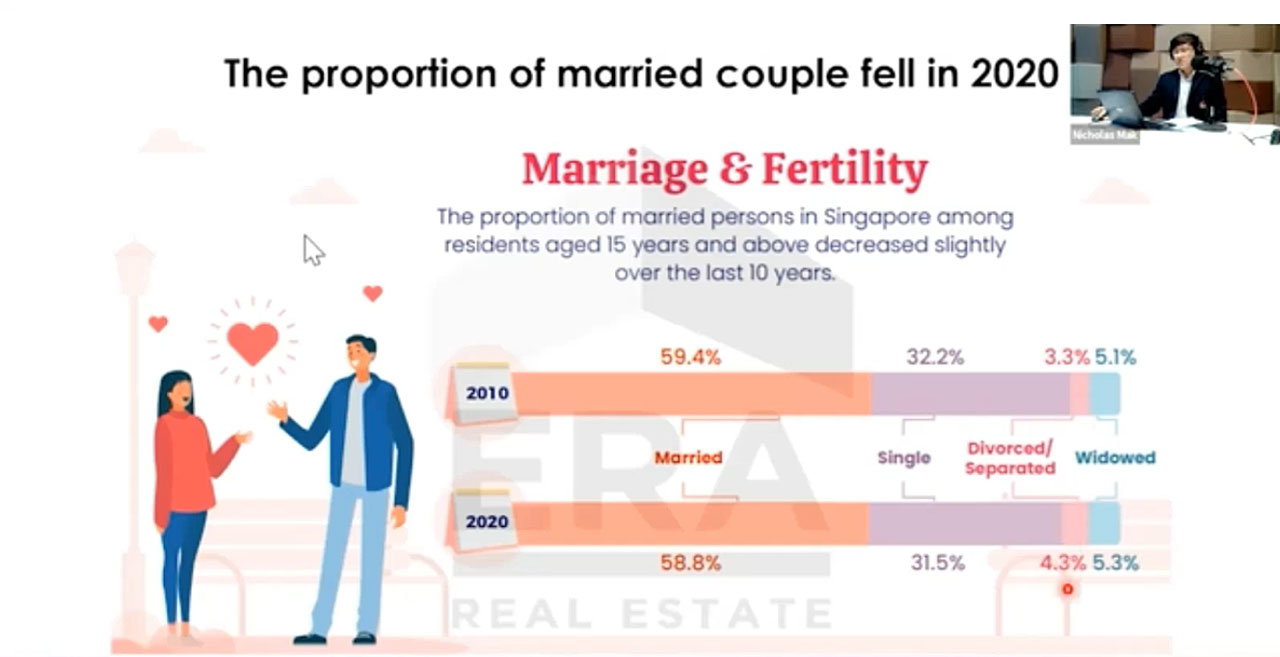 Education Profile of Residents
Resident population ages 25 & above having higher education in the last 10 year. Lesser resident below Secondary School & significantly higher in University graduation residents(1 out of 3 residents). Increased in education in female residents are slightly more.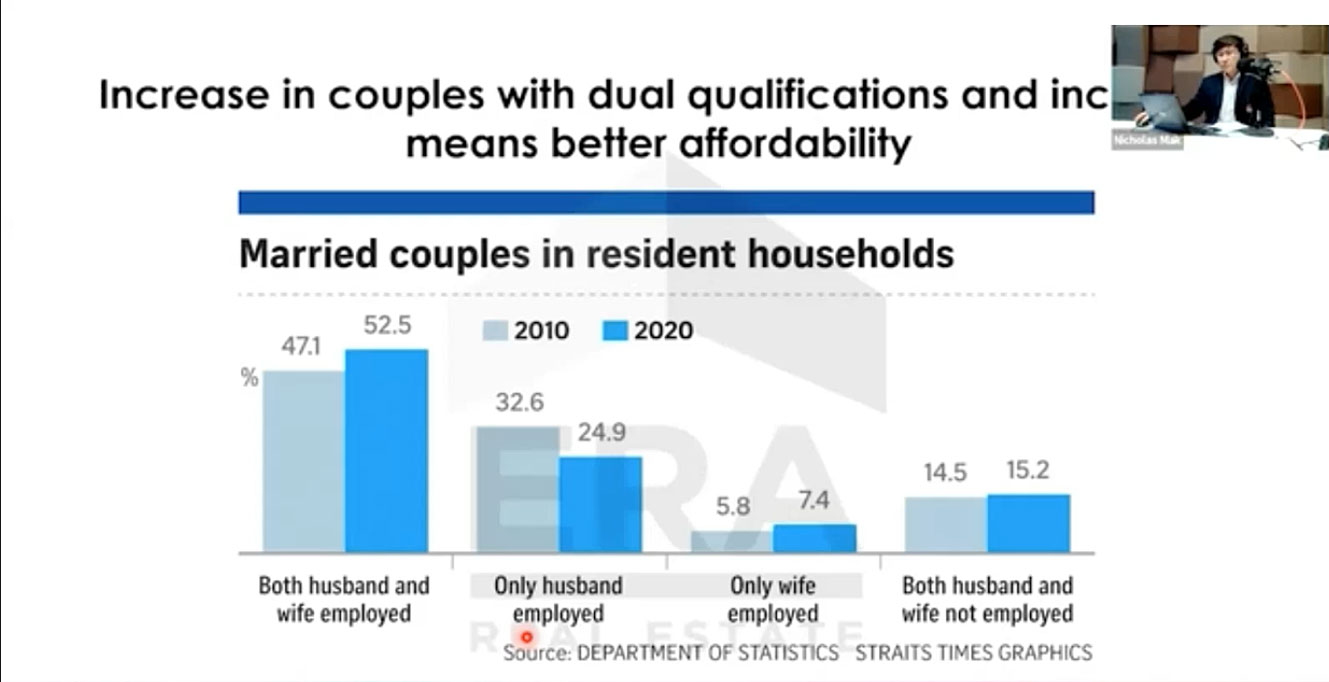 Changes of Working Profile of Residents & Demand in Real Estate Market 2021
more family having both husband & wife working than last 10 years. Working couples in resident households increased from 47.1% to 52.5% in 2020. Data is has shown that household which both husband & wife are not working are also increased by 0.07% due to their retiree ages. Obviously, these determine the locations of their home.
Number of Households in Singapore & the Income that determined shifts in Real Estate Market 2021
Date from CPF board shown that Household monthly income of $9,000to $20,000 are increasing. Specially those family monthly income $20,000 & above are doled up in number. This group of higher income family increased from 6.6% to 13.9% over the past ten years. Overall. *Those who have family mostly income more than &9,000 made up 44.3% of all household in 2020. Median household income increased by 1.9% a year after taking into account of inflation.
This is work to be average household income from 2010 at $5,600 to $7,744 in 2020. Household income has fallen down due to pandemic. Nevertheless less, number of resident households in Singapore increased steadily since 2000.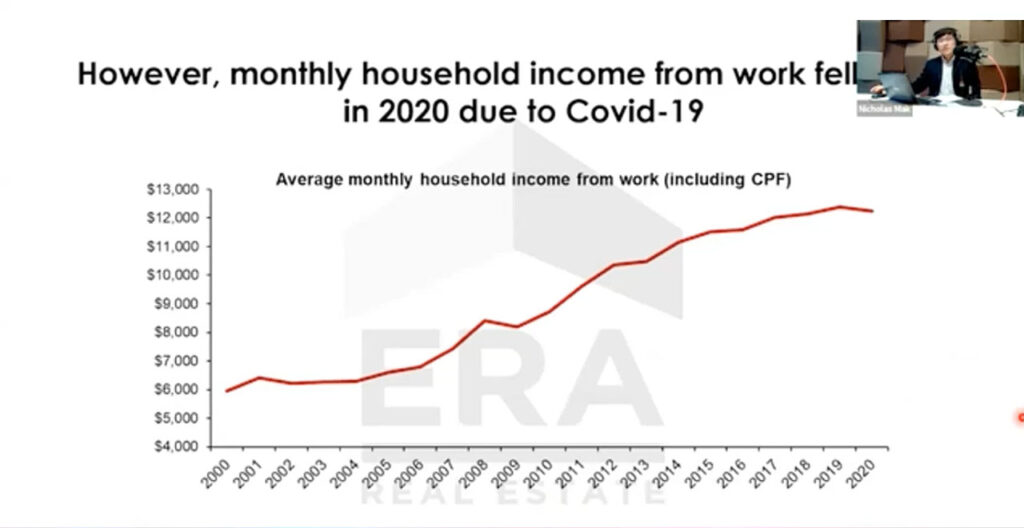 Ownerships of Residential properties by Singapore Residents
78.7% own HDB Apartments, more than half living in larger type of apartments. 16.0% own Private Condominiums Apartments & 5% own Landed houses. However 0.3% are not owning any.
The interesting figure suggested that the number of residents that own private apartments & condominiums are increased from 11.5% in 2010 to 16% in 2020. On the other hand, HDB ownerships has declined from 82.04% in 2010 to 78.7% in 2020. Landed houses are dropping from 2010 at 5.5% to 2020 at 5%. Analyser had mentioned stated that's because of the limitation of lands & landed houses in the market, they are not able to increased following the population growth.
Great Affordable Condo
The Watergardens At Canberra Condo developing by 3 major developers, UOL, UIC, Kheng Leong. It located near Canberra MRT Sun Plaza, Sembawang Shopping Centre, Northpoints City. Stone throw away to Bukit Sembawang.
Popular Location for working residents
Your maybe identified them by the number of employed or working residents in those areas. Top 10 Planning Area that are popular among singapore working residents are as following.
Downtown core has 12.9%
Queenstown 6%
Geylang 5.3%
Bukit Merah 4.7%
Tampines 3.8%
Changi 2.9&%
Kallang 2.9%
Jurong East 2.8%
Bedok 2.7%
Toa Payoh 2.4%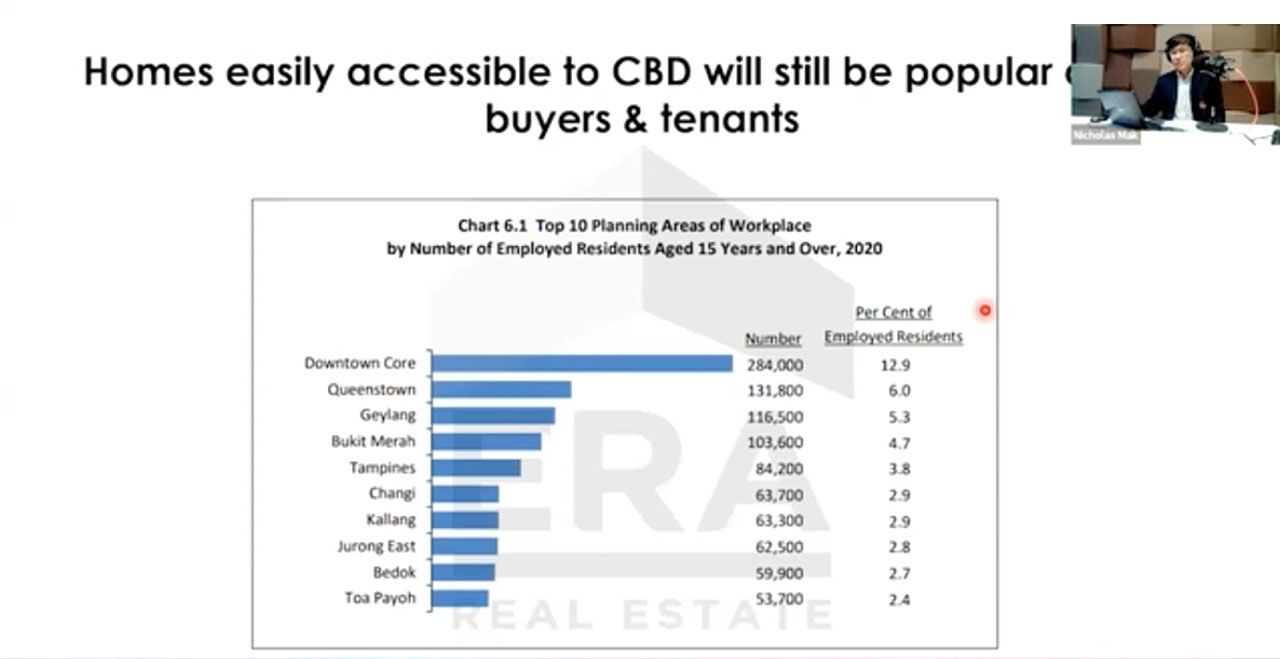 Summary about Singapore Census & the effects on Singapore Real estate Market 2021:
Ageing population & longer life expectancy
Smaller household size, more singles
Gradual population growth & matching housing supply
More educated population
Greater use of public transportation
Major job centres: CBD, one-north, Paya Lebar
With these, small unit with more than 1 bedroom. For example: 1+study, 2 bedroom might be more popular. Developers & Housing Development Board may focus on making less no. of bedrooms units. Investors, Home Buyers, house look for condo for sale apartment for sale should aware.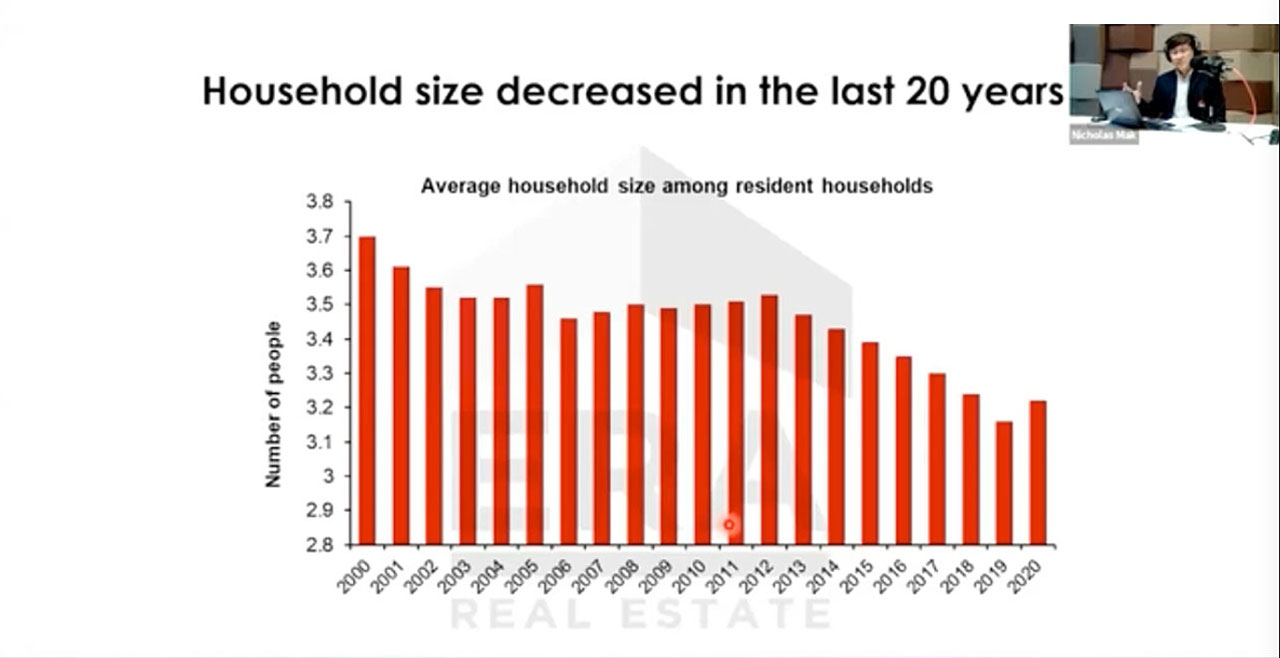 Great Affordable Condo
The Normanton Park Condo located near NUS, kent Ridge Park, near MRT, VivoCty. Minutes to CBD. Stone throw away to Bukit Sembawang. One of the most affordable condo for sale with ample facilities, greenery, swimming pools. Don't miss!