Singapore Residential Market Outlook 2021
Residential market outlook 2021 after phase 2 Covid restriction is even stronger as it go through another powerful acid test. The result of this will highlight the stability & fundamental of Singapore Residential Market. What we have seen is the firm local demand as at this period not many foreign purchasers can come to Singapore. Credit to Singapore government in controlling situation & steering economy during crisis. Also developer experience on adjusting products & services for the situations. 
Effects of Phase 2 Covid restrictions on residential property market
Primary residential market launch and sales in April 2021 The sales momentum in the Singapore private residential property primary market continued into April 2021. Real estate developers launched 1,038 private housing units, excluding Executive Condominium (EC), in April 2021, 8.2% more than the preceding month. Four new residential projects were launched in April. Three of the projects were located in the prime Core Central Region (CCR), as there are more projects in the CCR and city fringe areas than in the suburban areas lined up for launch this year.
Table 1: Residential projects launched in April 2021
Project Name

Location

Locality

Tenure

Total no. of units in project

Median transacted price in Apr-21

($psf)

Irwell Hill

CCR

99-year leasehold 

540

$2,628

Slim Barracks Rise

RCR

99-year leasehold

165

$2,009

Grange 1866

Grange Road

CCR

Freehold

60

$2,718

Peak Residence

Thomson Road

CCR

Freehold

90

$2,576
In April, developers sold 1,262 private housing units (excluding EC), 2.6% fewer than the 1,296 units sold in March 2021. In the current market that is affect by the pandemic, any sales above 1,000 units in a given month can be considered a good market performance. The median prices of the four new launches are above $2,000 psf, which is becoming more common among the prices of uncompleted properties in the CCR and the Rest of Central Region (RCR). No new EC project was launched, but developers sold 80 new EC units in April, about the same sales volume as the preceding month.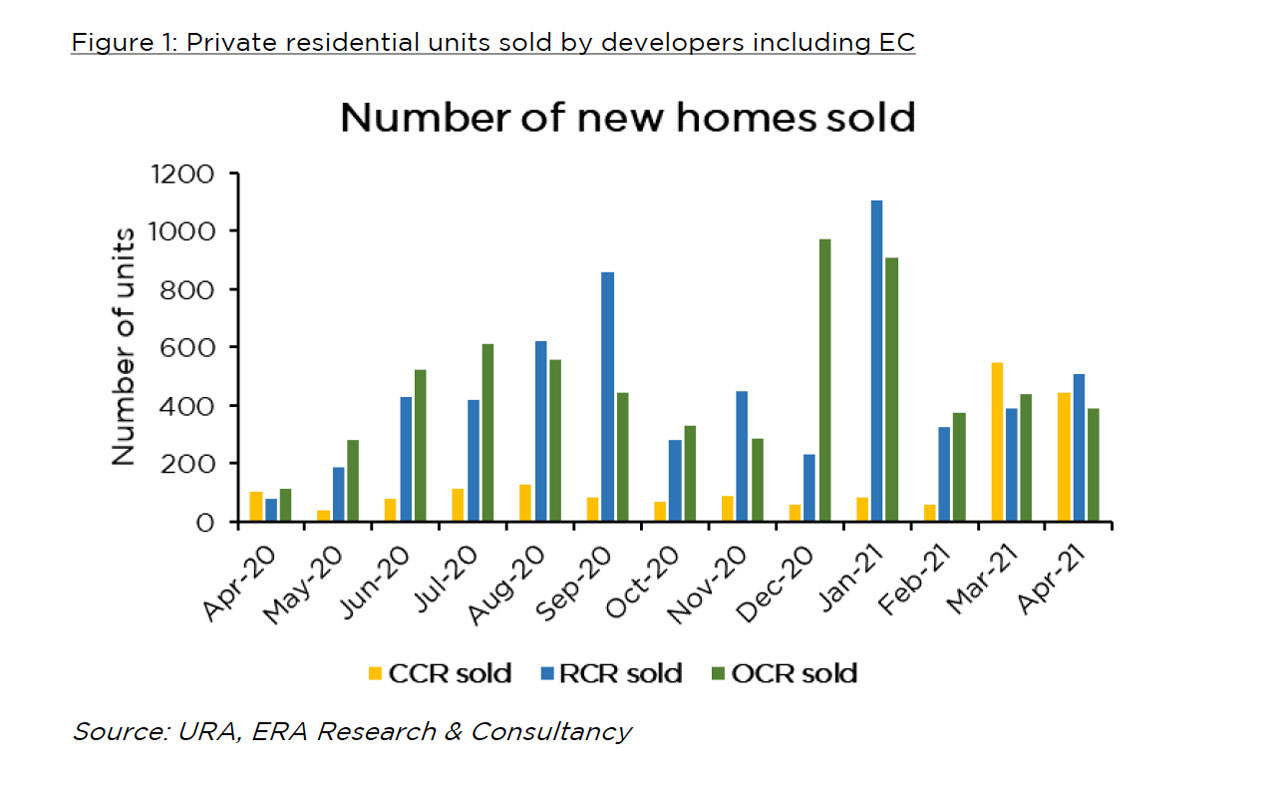 Effects of Phase 2 Covid restrictions
Last week, the Singapore government announced tighter restrictions for the next four weeks to contain the spread of the coronavirus. Phase 2 (Heighten Alert) will start from 16 May to 13 June 2021. The Singapore residential property market had a stellar performance in terms of sales and price growth after the lifting of the Circuit Breaker last year. The effects of any new tightening of the social distancing restrictions on the transactions in the property market will depends on three factors:
Severity of the restrictions. 
Duration of the restrictions.
Availability of substitutes.
Firstly, Phase 2 (Heighten Alert) is not as severe as the Circuit Breaker. The residential project show flats will still be open. In the resale market, buyers can still visit to view completed properties offered for sale.
Secondly, the duration of Phase 2 (Heighten Alert) is four weeks, shorter than the 8-week Circuit Breaker.
Thirdly, after the experience of the Circuit Breaker last year, many developers and their agents have the necessary IT platforms to market the residential properties remotely, such as through virtual show flats. Therefore, there are substitutes to physical show flats and the marketing efforts would not be greatly disrupted.
Anecdotally, the private housing sales in the first two weeks of May was at about the same level as in April 2021. The property sales volume could dip marginally during the Phase 2 (Heighten Alert), especially if property developers were to avoid launching their residential projects during the 4-week Heightened Alert. However, the pent-up demand accumulated during the 4 weeks could spur more transactions after Phase 2 is lifted.
Hence, by all measures, the Phase 2 (Heighten Alert) could slightly dent the transaction volume during the 4-week period. However, the property market will by all likelihood, return to business as usual once the restrictions are lifted.
It is starting to feel like déjà vu.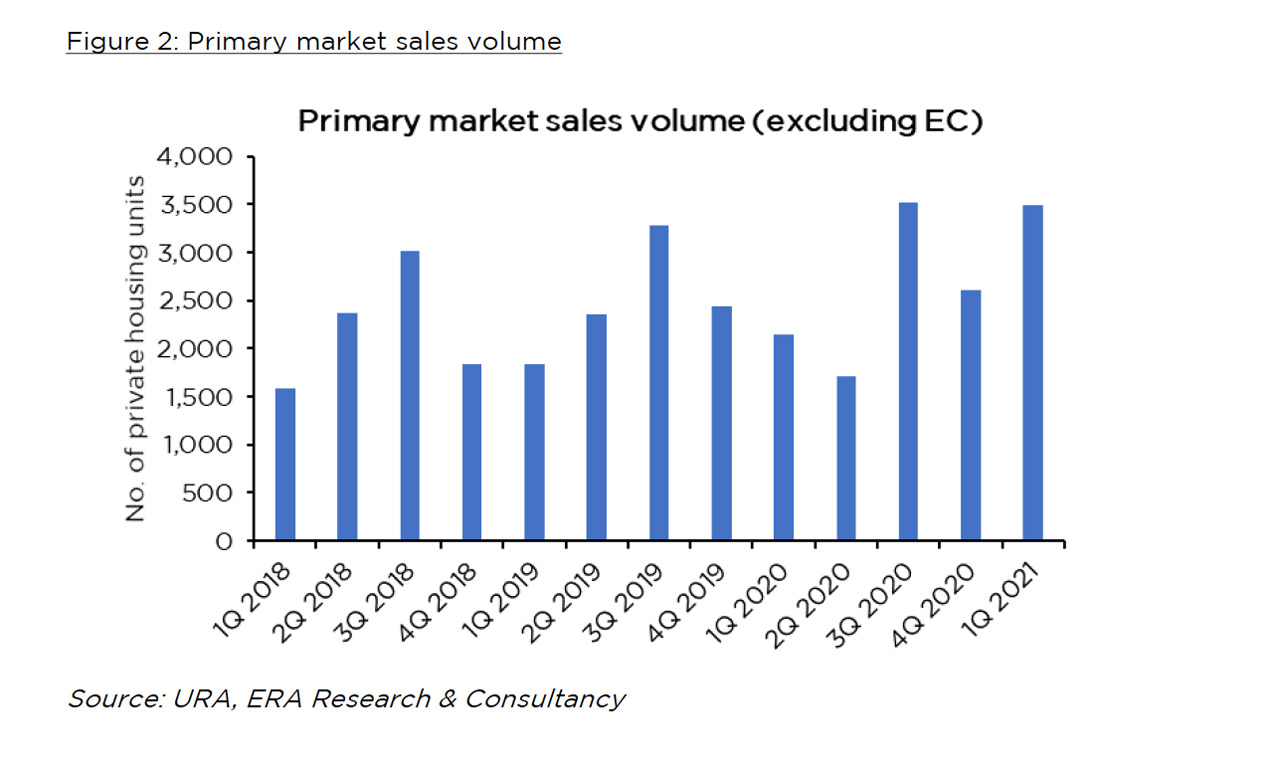 Analysis By: Nicholas Mak Head of Department, Research & Consultancy ERA Singapore ERA APAC Centre. 17 May 2021 
Editor's comments on Singapore Residential Market outlook 2021 after phase 2 Covid restriction.
Residential Market outlook 2021 at this point of time is looking good. Referring to the URA Statistic, Sales figure of 2020 is even stronger than 2019 before pandemic. In my opinion, 2 main factors contributing to this. One is the strong confidence of Singapore citizen to government in handling crisis. Another factors is liquidity & availibility in Singapore monetary during pandemic in 2020.
The information contained in this document is for general information purposes only and does not have regard to the specific investment objectives, financial situation and the particular needs of any recipient hereof.
This report is prepared by Research & Consultancy Department of ERA Realty Network Pte Ltd ("ERA").
This report may not be published, circulated, reproduced or distributed in whole or in part by any recipient of this report to any other person or parties without the prior written permission of ERA.
The information, views or opinions contained in this document ("Information") has been obtained or derived from sources believed by ERA to be reliable. However, ERA is not responsible for and makes no representation as to the accuracy or completeness of such sources or the Information and ERA accepts no liability whatsoever for any loss or damage arising from the use of or reliance in whole or in part on the Information.
ERA and its connected persons may have issued other reports expressing views different from the Information and all views expressed in all reports of ERA and its connected persons are subject to change without notice. ERA reserves the right to act upon or use the Information at any time, including before its publication herein. The recipient should not treat the contents of this document as advice relating to legal, taxation or investment matters.
Any person or party interested in further pursuing the matters contained herein are advised to make their own independent investigations and verification of the Information and any other information such persons or parties may consider to be relevant or appropriate in the circumstances.
This document does not, nor is it intended to, constitute an offer or a solicitation to purchase or sell any asset or property, or to enter into any legal relations, nor an advice or a recommendation with respect to such asset or property.